Toll Free - Stay Connected and Enhance Customer Relationships
Meaningful and constructive communication is fundamental to any good relationship. Toll free numbers are vital for any business encouraging customer engagement. Shouldn't that be every business? In fact, having a toll free number is proven to increase your company's credibility and inspire confidence from your customers and prospects.
With so many non-voice contact applications in place today, encouraging human interaction becomes more important than ever. Providing a toll free number not only shows you are available to communicate, it shows you are willing to invest in the relationship.
Toll Free Numbers Mean Business
Toll free numbers can be used for a variety of business applications. USA Digital toll free numbers reliably and cost-effectively expand your geographic reach domestically and even internationally.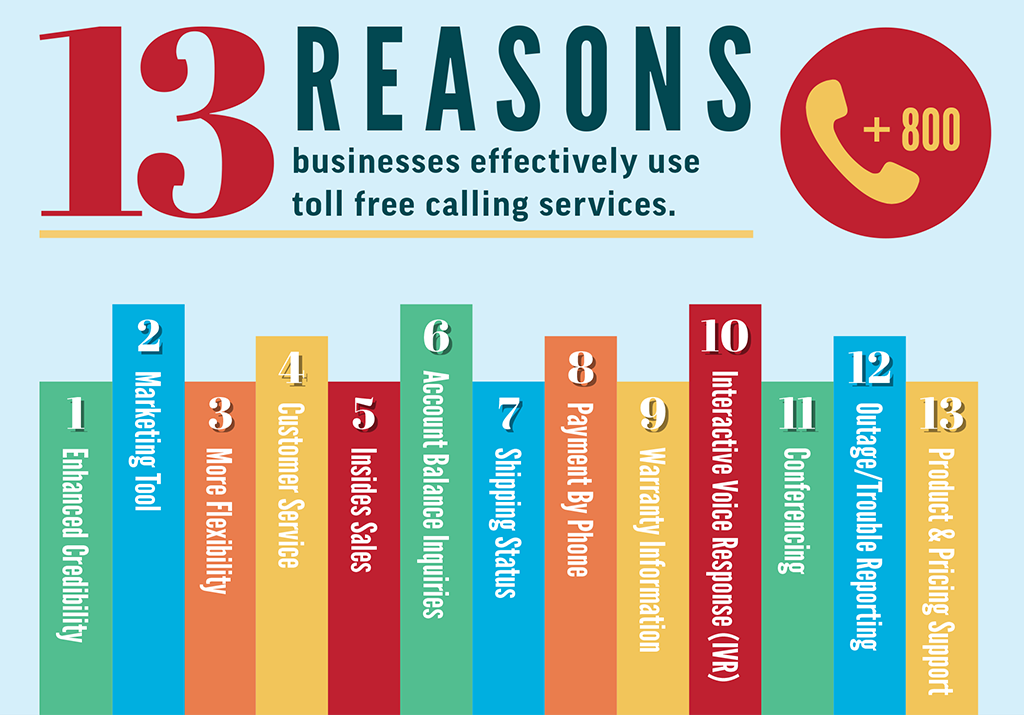 Benefits of Toll Free from USAD
From single line small businesses to complex multi-national, multi-location enterprises utilizing hybrid VoIP and TDM delivery configurations, we do it all. Additionally, our solutions engineering and customer support teams creatively customize as-needed advanced call handling capabilities which include:
Geographic routing – Custom route or block calls by LATA, Area Code, or individual phone number(s).
Time-based routing – Custom route by time-of-day, day-of-week, day-of-year or combine to suit your needs.
Business Continuity – Keep your revenue flowing with disaster avoidance and other emergency routing.
Percent Allocation routing – Direct the calls where you need them for load balancing or other staffing requirements.
Telephony Denial of Service – Protect your ability to receive calls by preventing TDOS attacks.
And wait, there's more! We've put the control in your hands. You can manage these routing options through our customer portals, Call Director and Call Sentinel to further enhance your productivity.
Toll Free from USAD
Keeping you connected to your customers is what we do and toll free is a valuable tool that keeps you connected. Your credibility becomes damaged when your toll free services don't work. We recognize that. We protect each customer's credibility by providing a geo-redundant, multi-carrier network. This means we bring calls into our multiple network locations from a variety of underlying service providers--making sure your customers reach you. Doing so dramatically lessens the potential for single points of failure. When your customers call, your phone rings! We provide all that assurance at price points below the larger and less flexible telephone companies.
Contact USA Digital at 833-289-8723 or sales@usad.com to learn more.