Expand in New and Existing Markets Quickly with Cost-effective Local Inbound (DID)
Extend your local reach throughout North America. Do you want to expand your telephone network rapidly? You need local inbound or Direct Inward Dialing (DID).
USAD provides secure, local inbound services to all 50 states, Canada and over 200 other global destinations. Your business gets a local presence in new markets. The result: improve your business, increase customer satisfaction, and reduce costs.
Would you like to set up quickly in new markets?  You can utilize local numbers which will ring to you regardless of your actual location(s). Easily aggregate traffic to single or multiple locations.
Local Inbound Services at your Fingertips
Managing your phone numbers should be stress-free. With USAD, you can easily and effectively migrate existing numbers or order new numbers directly in our secure online portal or via our APIs. Search for numbers in the service areas you need. We make porting easy and provide visibility through online reporting tools.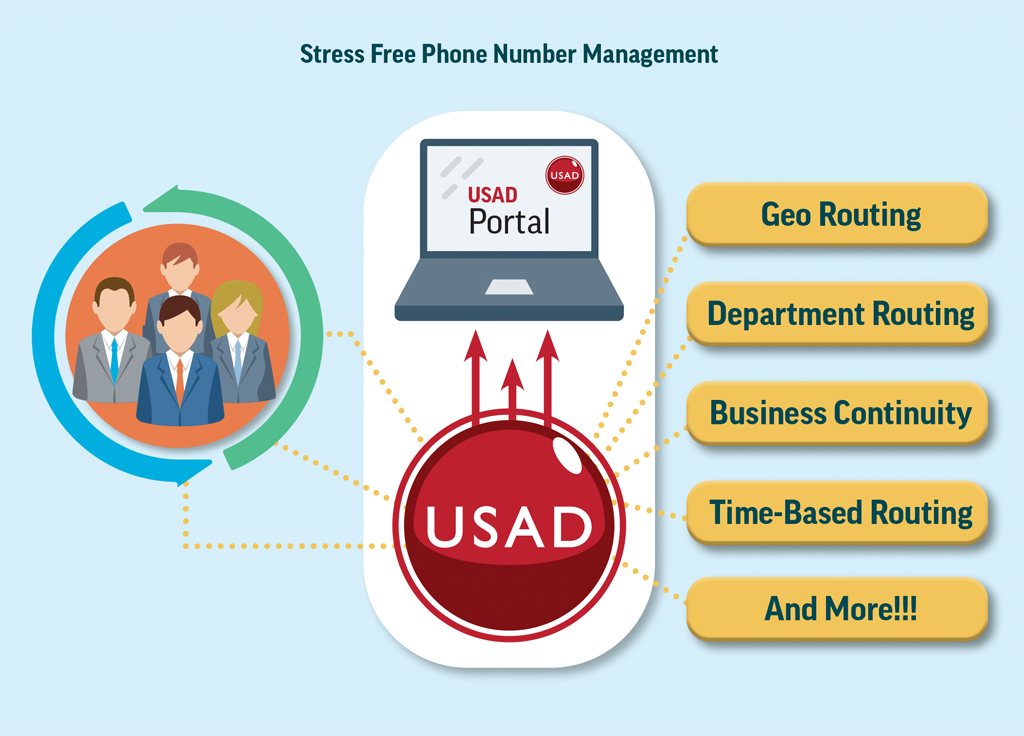 Benefits of Local Inbound from USAD
As with our Toll Free services, USAD's customized solutions are designed for as-needed advanced call handling capabilities. We do it all, from single line small businesses to complex multi-national, multi-location enterprises.
Geographic routing – Custom route or block calls by LATA, Area Code, or individual phone number(s).
Time-based routing – Custom route by time-of-day, day-of-week, day-of-year or combine to suit your needs.
Business Continuity – Keep your revenue flowing with Disaster avoidance and other emergency routing.
Percent Allocation routing – Direct the calls where you need them for load balancing or other staffing requirements.
Telephony Denial of Service – Protect your ability to receive calls by preventing TDOS attacks.
You deserve control and USAD puts the control in your hands. These routing options are easily managed through our customer portals, Call Director and Call Sentinel, to further enhance your productivity.
Local Inbound from USAD
The USAD Local Inbound service is designed to be your foundation for growth and expansion into new markets or create a local 'look and feel' in existing markets. Whether you require a primary line replacement, toll free replacement or creating new voice applications for emerging markets, our local inbound service provides the coverage and flexibility you need to optimize your communications. When your customers call, your phone rings! All that assurance at price points below the larger and less flexible telephone companies. 
Contact USA Digital at 833-289-8723 or sales@usad.com to learn more.