Always-On Internet Means Less Downtime, Greater Productivity for Your Team
Dedicated Internet Access (DIA) is your pipeline to increased productivity, information access and business savings with its instant, always-on connectivity—to your customers, your devices, your employees and your cloud applications.
With dedicated internet access from USA Digital, your team can transmit and receive anything, anytime—data, voice, email, apps and video—with a reliable, high-speed connection. The bandwidth is dedicated to your location, performance is optimal, and the connection is secure.
DIA offers fast uptimes and the efficiency of one pipe for all applications, from company emails to IoT to unified communications. This enables your users to be more productive with cost-effective connectivity that also keeps smart devices communicating as expected.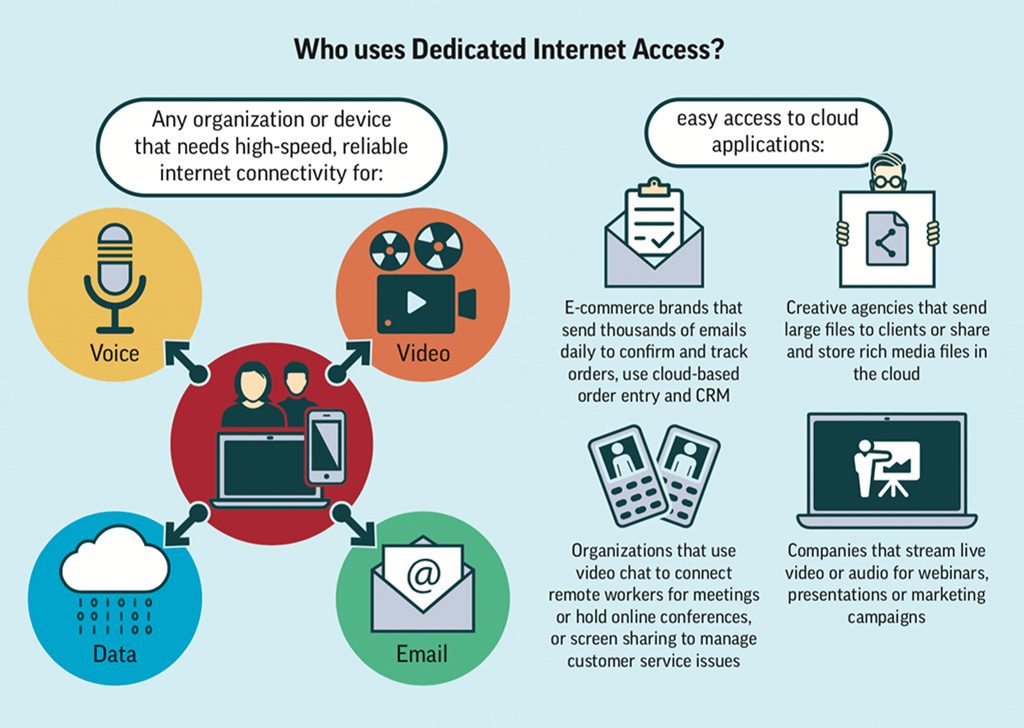 Dedicated Internet Access from USAD
USAD delivers the best internet reliability on the largest, most advanced IP networks in the country. We offer a range of bandwidth plans, from T1 capacity up to 1GB which means we can scale up your capacity and maximize throughput, via fiber or copper, depending on your needs. Understanding that different media place different demands on your system, USAD will help you determine the best way to keep your DIA up to speed. Plus, with USAD you get:
Our proactive network monitoring
24/7/365 customer service
High performance network backed by strong SLA policies
Ability to add firewalls and encryption to safeguard data
Extensive reach throughout the U.S., Puerto Rico and U.S. Virgin Islands
Contact USA Digital at 833-289-8723 or sales@usad.com to learn more.